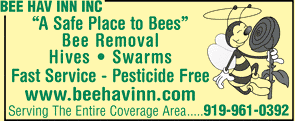 Our business was established in 2006 and Incorporated in 2008, and we pride ourselves on providing customers with high-quality products and personal service. Our office is conveniently located in the heart of Johnston County and we currently our serving Johnston, Wayne, Wake, and Wilson areas.
We provide the following services: Swarm removal in yards or in structures, bee education, pollination services, honey production, and we are hoping soon to add a whole line of bee products and supplies in the near future.
Fact 1:
It is unlawful to kill a hive of bees.(with some exception contact your local inspector).
Fact 2 :
It is unlawful to market queens, packages, nucs or hives before the Permit to Sell Bees in North Carolina has been issued. For North Carolina residents , a permit is not required for :(1) the sales of less than 10 hives in a calender year: (2) a one time going out -of-business sales for less than 50 bee hives, or (3) the renting of bees for pollination purposes or the movement of bees to gather honey. ( Taking from the North Carolina State Beekeepers Association Official Handbook).

We hope you'll find the information you need on this site about our company and the products and services we provide. We look forward to working with you.